Whirlpool Gladiator "Freezerator"
We got a Whirlpool Gladiator series garage fridge/freezer, the "Freezerator," after the remodel.  It looks like a typical fridge/freezer with a smaller top section than bottom — except that the bottom is the freezer, and the top is either refrigerator or freezer.
Over the years, we have had ongoing problems with ice buildup in the freezer section.  And it became clear that it was water running down from the upper section.  We had defrosted it, to the point of being able to get the obvious ice dealt with, every couple of years. Earlier this year, we got a pair of TempSticks, which let us check on the temperature and humidity in both compartments.  The humidity always seemed a bit high, but there was no information in the user manual or on the web about what should be "normal" in either a fridge or freezer.
I did some searching on the web, and found this video by Dion Hock about his solution:  https://youtu.be/nGdIS1uLAto.  I remember having a standard freezer-over-fridge that did something similar years ago, so the whole concept of taking off the back of the upper unit was not foreign to me.
This is what I saw once I finally got the back off: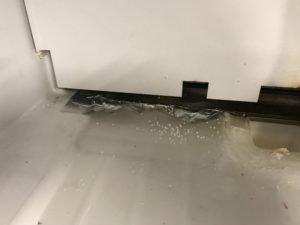 The entire back area was frozen solid, and this was 2 hours after I pulled the plug and started to let the freezer defrost!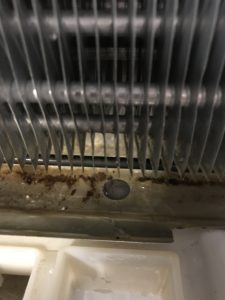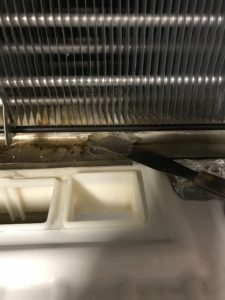 Once I got the next layer off, I could see the drainage area.  The entire thing was full of ice still, and the actual drainage channel was a solid plug of ice.  That drain tube goes all the way down to the bottom of the device, to drain into the evaporation pan which is under the freezer compartment.
The basic defrost was done in about 2 hours, but it took over 6 hours and the application of some hot water using a turkey baster and straw directly into the top of the channel to get the ice to melt and the water to drain.
Now to see how long it takes before it gets iced over again.