Visiting PRONI
If you're into genealogy, there are a few places you want to visit at least once to search records.  One of them is the Public Record Office of Northern Ireland, or PRONI.
PRONI is in Belfast, in the Titanic Quarter.  They house original documents as well as microfilms and other copies, taken from churches, businesses, and individuals, along with government records.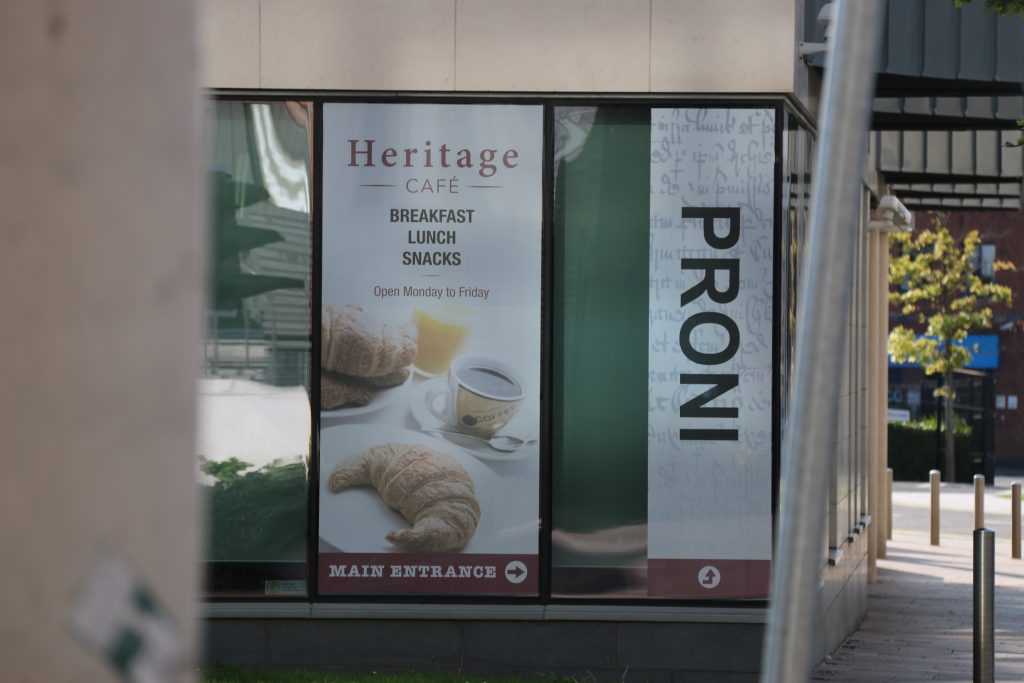 I've traced all of my lines back to the people who came over to North America, so now have to start searching elsewhere. When we were in Ireland (technically, the Republic of Ireland) in 2014, we went down to Muine Bheag (Bagenalstown), where my Doyle ancestors were from, and were able to get a little more information from the County Carlow library and the parish. But those records only really go back to about 1800.
PRONI has records from earlier, although only for Northern Ireland. The Ferriers are from Belfast according to the records I already have, and the McFarlands were Ulster-Scots from County Tyrone. And despite options for on-line research, if you don't know where to start, it doesn't help.
Once you get registered for access, and get your ID card, you can go upstairs to look at the self-service microfilms, or request specific items to be pulled from the archives.  I was able to look at their electronic index in advance, so knew more or less what microfilm reels I wanted to search.
Despite fairly specific details, I had no luck finding the Ferriers, within 10 years on either side of the info I had.  The McFarlands were harder although there was info to be found.  The specific years that I was searching for had not been microfilmed, but I hoped that I would find related information about the family that might help me hone in on my family.  The specific records from the mid 1700s were microfilmed in no particular order, jumping 10 years from page to page.  Most of the records were christenings, with some marriages, and a few burials.  The handwriting was alternately easy and impossible to read.  The city names in particular were sometimes difficult to decipher.   It took me nearly 3 hours to go through the Cappagh Parish records on microfilm.  Then I had to read my handwritten notes and create a spreadsheet.
The only way to get images is to have the librarian do prints from the microfilms. They are somewhat emphatic that you are not to take "personal photos" within the restricted rooms.
Searching for ancestors on ships manifests is difficult, as until fairly recently, there was no requirement for a captain to submit one upon arrival.  A relatively new database is DIPPAM (Documenting Ireland: Parliament, People, and Migration), which includes many items about ships and transportation.  Using this, I was able to verify that the ship North Star did indeed exist, and departed from Londonderry on 1 June 1812 bound for New York.  I was also able to search Filby's index*, which showed two McFarland families, apparently on the same ship, who landed in New London, Connecticut in 1811, as well as one who landed in New York City in 1812.  Now to tease out the inconsistencies in my information.  And figure out where the North Star actually landed.
*
Filby, P. William, ed. Passenger and Immigration Lists Index: A Guide to Published Arrival Records of … Passengers who Came to the United States and Canada in the Seventeenth, Eighteenth, and Nineteenth Centuries. 3 volumes plus annual supplements. Detroit: Gale Research Co., 1981-__. This series is a finding aid to published passenger lists. Be sure to read the "front material" to understand how to use the information you find.
Filby, P. William, ed. Passenger and Immigration Lists Bibliography, 1538-1900. 2d ed. Detroit, MI: Gale Research Co., 1988.